August 5: Digital Marketing and Lead Generation for the Real Estate Industry (Manila)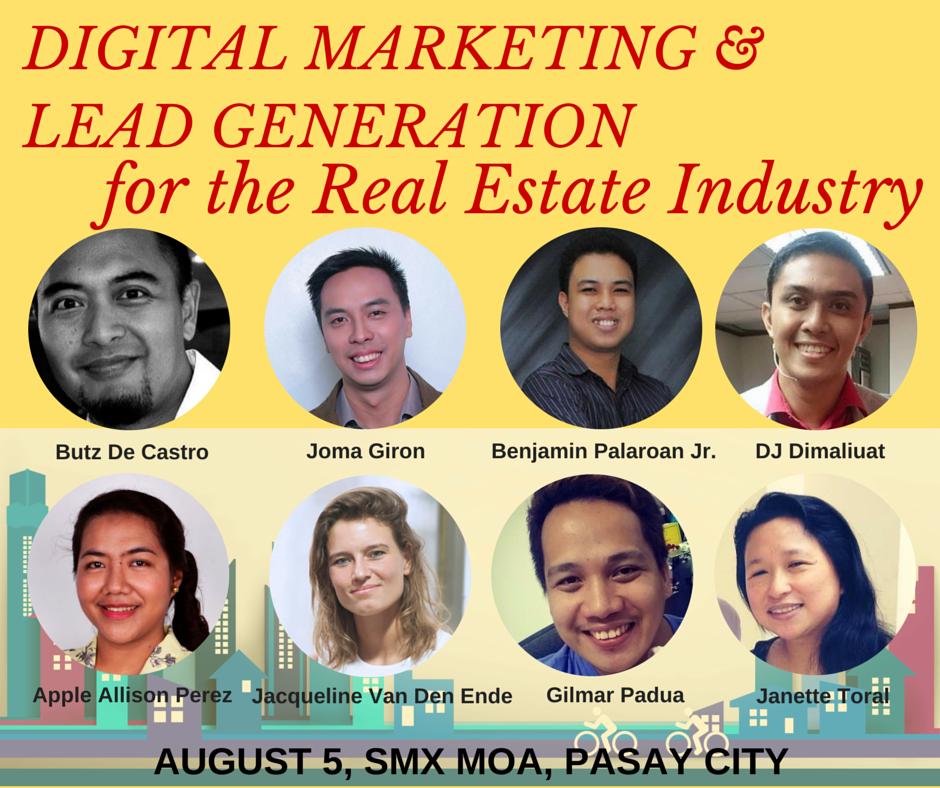 Real estate service professionals are invited to take part in this exclusive boot camp that aims to tackle how digital marketing can be useful to promote real estate and generate leads online. This will be on August 5, 2015 at SMX CONVENTION CENTER, MOA, PASAY CITY from 10:00 AM to 6:00 PM. (Registration starts at 9:30 AM)
Target audience:
Aspiring and current real estate service practitioners (licensed broker, appraiser, consultant, salesperson) engage in traditional marketing and would like to explore the online realm.
Real estate service professionals wanting to gain insights on how to improve their current Internet marketing practices further.
Real estate developers trying to build a database that services external customers and internal agents. Those who would like to build a site with a bigger database back-end meant for external customers and internal agents.
Agenda:
This 1-day session covers the following:
Morning
I. Identifying your strength and Personal Business Model
II. Online business model for Real Estate selling
III. Creating a Website and Blog focused on Target Buyers (Gilmar Padua, InfinityHub)

IV. Generating traffic, leads, inquiries from Search Engine results (Jacqueline Van Den Ende, Lamudi Philippines)

Afternoon
V. Content Development (Apple Allison Perez, Sole Searching Soul)
VI. Content Marketing
VII. Live Chat to Engage Prospects
VIII. Customer Relationship Management (Benjamin Palaroan Jr. of Own Your Property PH)

IX. Build Relationships with Email Marketing (Butz De Castro of MyProperty.ph)

X: Social Media Marketing (Joma Giron of Aboitiz Land)

XI. Internet Advertising
XII. Build Your Online Sales Network (DJ Dimaliuat, Driven Marketing Group)

REGISTRATION
Fee for this 1 day training is P3,500.
For all payments made, fax (+632-9280931) or email (info@pepgroup.com) the deposit slip for confirmation:
Account name: PEPGROUP INC.
Account number: 168-0250-165 (deposit at any BDO Branch)
For further inquiries, call PEPGroup Inc. at +632-9297993 or +6324354790
If you like to contact Janette Toral, call 0917-4490011 or send a private message at her Facebook page.