Lesson 4.1 Landing Page Creation 101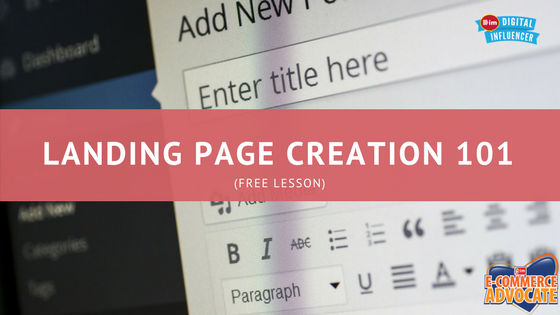 Landing pages are usually created to develop a specific offer meant to your target market. Depending on the tool you will use, it gives you the opportunity to customize the elements you want to present.
If done right, it can be a powerful tool to:
Generate leads.
Present a compelling a brand image or perception.
Inform prospects on your product or offering.
To try the hands-on demonstration done in this webinar video yourself, while watching it, sign-up for an Instapage trial account here.
Topics tackled in this free webinar lesson are as follows:
Landing Page 101
Types & Use of Landing Pages
Signing up and get started
Get the right template
Crafting an interesting headline
Use compelling image and video
Add a Call to Action Form
Adding deadline / timer
Search engine visibility
Social media sharing
Adding Analytics
Creating landing page variation
Build trust to your site
Publishing your landing page as stand-alone, on your Facebook page, add to a current WordPress site.
Trainer profile:
Speaker for this learning session is Janette Toral. She  actively uses landing pages to promote her various trainings including:
She  actively maintains her own websites and blogs running on various  platforms.
Our warm thanks to Patrons for supporting the creation of this learning module.