Lesson 1: Creating a Blog with Blogger.com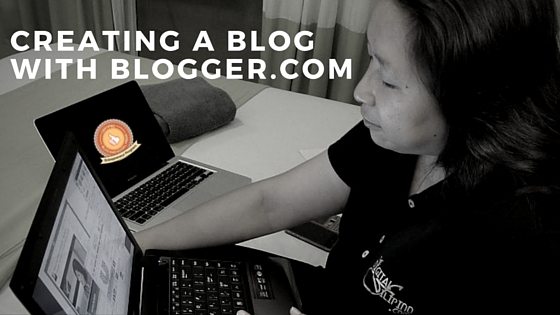 Our first lesson in the Blogging and Social Media 101 Learning series is "Creating a Blog with Blogger.com".
This FREE e-learning series provides technical hands-on tutorial to anyone online and further providing additional learning materials for those who will be joining our:
Digital Marketing for HORECA, Hospitality, Food & Beverage, Tourism Industry (Feb. 17 – Bacolod, March 9 – Baguio, April 20 – Cebu, June 15 – Davao, August 3 – Manila)
Digital Marketing for Real Estate Industry (Feb. 18 – Bacolod, March 10 – Baguio, April 21 – Cebu, June 16 – Davao, August 4 – Manila)
Certified Blog and Social Media Entrepreneur Program (ONLINE class starts on March 3)
Creating a Blog using Blogger.com
Blogs today are not only used for sharing personal thoughts, it can also serve as platform to disseminate information about your interest. Examples include:
A hotel can use as a website where pages can be created that talks about amenities, rates, special offers, and latest events.
Restaurants can use it to showcase their menu, customer stories, and partnership opportunities.
Caterers can use this online presence to disseminate their menu packages per occasion, post pictures of catering set-up, and video showcase too.
Food & beverage brands can use their blog to talk about recipes and education materials about their product that people will find when they search for more details online.
The hospitality sector can use a blog to talk about their services and further elaborate it through pictures and storytelling.
Tourism destination promoters can use a blog to share stories about sites, landmarks, important places that will help an incoming tourist plan their stay and where to go while there.
Real estate service professionals can use a blog to talk about investment opportunities for lots, houses, condominiums, and business spaces.
Blogs indeed made it easy for people to publish content online, whether business or personal. It has also reduced the amount usually invested in when coming up with an online presence.
Resources: